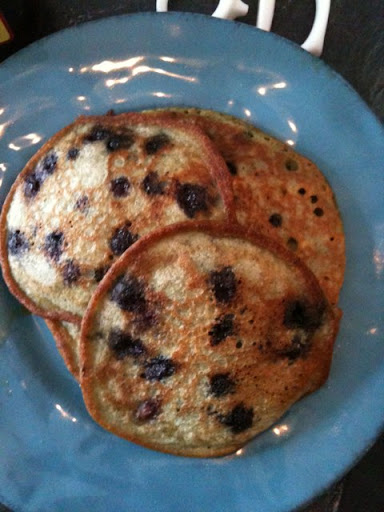 Ingredients:
Egg replacer for 1 egg
1 cup soya milk
1 tsp apple cider vinegar
1tsp vanilla extract
1/4 cup spelt flour
3/4 cup quinoa flour
1/2 tsp salt
1/2 tsp baking powder
1/2 tsp baking soda
3/4 cup wild blueberries
Directions:
Prepare egg replacer in a mixing bowl. Add vinegar to soya milk, allow to curdle, then add to egg replacer. Stir well, adding vanilla extract. Sift together dry ingredients and mix into liquid ingredients, eliminating all visible lumps. Stir in blueberries.
Heat a pan to medium and prepare wit margarine or safflower oil. Drop batter in pan 1/3 cup at a time. Cook until bubbly on top, turn and cook 30-45 seconds more. Enjoy!